"Spaghetti" integration or ESB approach?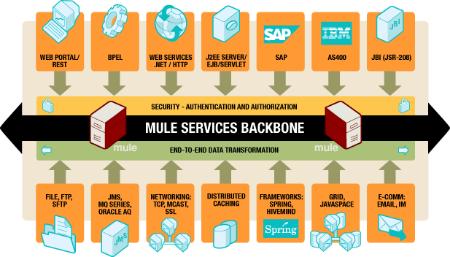 The solution to integration problem can be found in Software Architecture. The ideal architecture must be such that the involved systems should catch and react to events
(
EDA
: Event Driven Architecture)
and be also oriented to services
(
SOA
: Service Oriented Architecture)
.
An architecture based on an integration bus, that is an
Enterprise Service Bus
(ESB), allows a central managment of interconnections, hence avoiding the single applications to deal with it.
ESB is based on standards (SOAP, HTTP, JMS, XML, XPath, JBI, JMX, FTP, SMTP, JDBC, etc.), allows to deploy an integration architecture in highly distributed and disconnected environments, affording those typical requirements a company's management team requires from the IT dept., i.e.:
flexibility
- deploying or adopting new solutions in short time, reusing existing applications;
control
on company processes in real time;
reactivity
- ability to intervene quickly to adapt to sudden needs, therefore reducing the time-to-market.
Omnys has gained specific skills in using
ESB
platforms such as
MULE
and
BEA AquaLogic Service Bus
(today Oracle).